Meet Dr. David VanDehey
Family Miracle Thru Chiropractic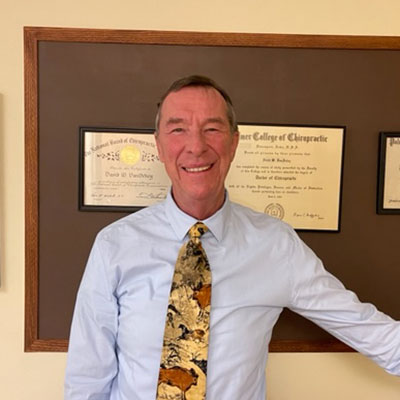 I didn't experience a miracle myself but… What I am about to write is true and in the records at Palmer College of Chiropractic. My brother's life was saved through chiropractic. He was born with a life threatening birth defect, "failure to thrive syndrome". The developer of chiropractic, B.J Palmer, gave him lifesaving chiropractic adjustments and my brother is alive and well.
Chiropractic Inspired Me
I was inspired to chiropractic by my father. He was an exceptionally gifted chiropractor. Our home was next door to his office and I watched as a small child the wonders of chiropractic and the beauty of the gift of healing from within that is in all of us.
Chiropractic Education
I attended Palmer College of Chiropractic, it is the original teaching institution and had at that time the best professors, who I love and will never forget them and their passion for chiropractic. They gave me the desire to continue to learn to better serve.
EXPLORE CHIROPRACTIC CARE »

Chiropractic Philosophy
My philosophy is we all have the God given right to be healthy; this is possible only through healthy choices. Chiropractic care for wellness for a lifetime. We live our lives through our nervous system. It is vital that it functions effectively to have optimal health. The most deeply fulfilling experiences in our office are watching children's health, vitality and perception of the world changes through chiropractic care. So many kids well being is threatened by prescription drugs, poor diets, and lack of physical activities. There is nothing more satisfying than watching these kids' lives change before my eyes. You can't put a price on children's health, can you? Parents with sick kids cannot enjoy life, but when their children's nervous system is functioning as it is intended, through specific chiropractic adjustments their kid's health is returned, without drugs and surgeries. If you have family members, kids or maybe yourself with health challenges that medicine is not helping and maybe getting worse. What should you do? Call VanDehey Chiropractic Health Center!
Living the Chiropractic Lifestyle
I met my wife, Anne, in high school and then lost touch with her. Twenty years passed and she came in as a patient. We had very similar view points in our philosophy in regards to what is important in family, spirituality, and leading a healthy lifestyle. As a result of our re-meeting we now have two wonderful and beautiful girls, Alexandra and Olivia. Anne has also been my office manager for the past twelve years.
My up-bringing was very unique, I never received a vaccination, never have taken medications of any kind in my life. My belief is that health comes from inside the body, never from any medications. My family and I achieve health through a healthy life style that includes regular chiropractic adjustments, natural whole foods and supplements, staying physically fit by challenging our physical abilities.
Achieve Your Health Goals with Chiropractic
I consider myself an excellent listener and hope I get the opportunity to meet you in person and discuss your specific health challenge. I have over 30 years of experience being a chiropractor and a lifetime of experiences of seeing chiropractic work wonders. I have great passion to serve my community and would love to help you and your family achieve your health goals. Give our Bourbonnais chiropractic office a call or email me.
---
Dr. David VanDehey | (815) 933-5688