Second Visit to VanDehey Chiropractic Health Center
Report of Findings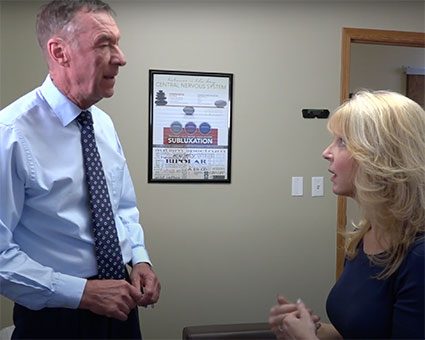 Your second visit focuses on your "Report of Findings". Understand, please, that we will be concerned with Cause… Vertebral Subluxation Complex… Interferences within your nervous system.
Dr. VanDehey will answer any questions or concerns that you might have, and make sure that you understand the concepts basic to Chiropractic, so that you will be better able to make an informed decision.
You will watch a second video that will help you decide where you want to take your health whether it is short-term pain relief, stabilization or longer-term corrective care. The choice is yours!
Dr. VanDehey will go over everything that he found in your history, exam, X-rays and neurological scans. He will explain what your Subluxations mean to you now, and what it will mean to you in the future if not corrected. He will then explain what to expect from chiropractic care here and all of its positive implications for your life.
Your Decision
Because he goes out of his way to make everything clear, your decision will be easy. After finding out your health goals, Dr. VanDehey will have all the information he needs to customize a Care Plan that fits your goals into his recommendations. The Care Plan details with the total number of visits and how long it should take will be ready for your review on your next visit. At that time you will have the opportunity to discuss all of your options for paying for your care. We have payment plans, cash discounts and family discounts…. we will work with you!
For a few, it is simply not for them. they prefer the allopathic (medical) approach. For most people, they just can't wait to get started. (No, it is in no way necessary or expected of you to stop or alter any other care that you might be getting.)
Total time should be about an hour.
Take a look to see what you can expect during your regular visits to our chiropractic office.
CONTACT US »

---
Second Visit to VanDehey Chiropractic Health Center | (815) 933-5688